---

1969 XW FALCON ACCESSORIES
---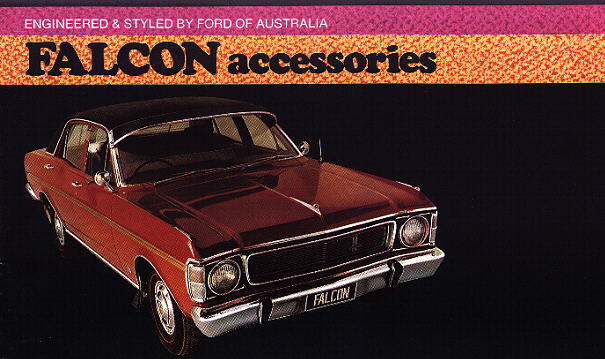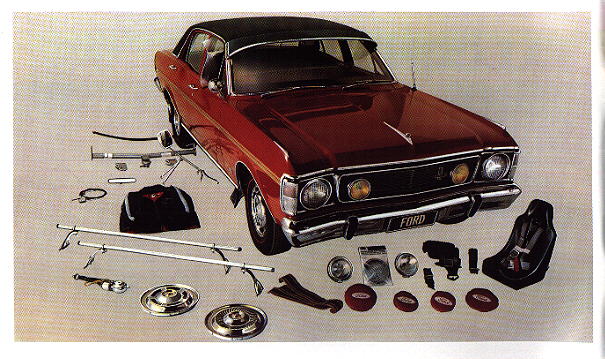 ---
FALCON
the accessories that lead the way
---
The car that leads the way is backed up by a wide and practical range of accessories that lead the way. Accessories that are really good gear. Good gear specifically built for your new Falcon. Your Ford dealer can fit any of these added refinements quickly and expertly.... if you have them fitted for delivery with your new car, they are covered by Ford 12/12 Warranty and can be included in the car purchasing plan.
Good car. Good accessories. FORD IS NOW.
---
COMFORT
---
Silent-Flo Heater
Specially engineered by Fords for peak efficiency opperation. Enjoy the comfort of medium or high speed circulation of warm or cool fresh air. Deluxe control assembly, internally lighted, blends with other instrumentation. Also provides an effective demisting system. - Illustrated below.
Motorless type, with demisting equipment and tailored controls to match other dash controls. Utilises fresh air rammed through the plenum chamber by forward car movement. Also available.
Super Fringe & Deluxe Radios
Relax, enjoy your motoring more.....by listening to the supreme sound of a Ford radio. Delight in the fine reception of one of these " solid state" units. Equipped with high output silicon transistors, they give instant switched-on sound. Volume setting is maintained. Each is tailored to match facia panel. The "Super-Fringe" model gives exceptional performance in outer fringe areas.
Available in 'Deluxe Push Button' - 'Super Fringe' Deluxe push button and Deluxe , Manual Control.

---
Auto Portable
This dual purpose 9 Transistor can be used as a portable or a conventional car radio operating from the normal vehicle circuit, aerial and speaker. When fitted as car radio, can be locked into vehicle with special key !
Radio Aerials
Electrically operated , gives fingertip adjustment at the flick of a switch, silently glides up or down at your control from inside the car.
Normal type also available.

---
Radio Aerials
Tripple chromed fully retractable lock down unit with release key for extension up to 30"
Right or left rear telescopic aerial - to add a stylish flair with swept back styling....gleaming chrome finish.
Extension Speaker
For that sterio effect, with mixer control to regulate the front and rear speaker. Fits neatly and unobtrusively inside rear parcel shelf.

---
Cigar Lighter
Press button type for cigars and cigarettes. Automatic release. Matches other instrumentation.
Weathershield
Rain , wind - or any season - attach a shield for real comfort. Tinted or clear heavy guage perspex, smartly styled.
Cool Air Cushion
Loose cushion type ventilated comfort seat helps you drive cool in the summer- with your heater working , allows circulation of warm air in winter too.

---
---
CONVENIENCE
---
Boot Lid Release
Remote control to release boot lid from drivers seat, without removing ignition key. Ideal for taxi owners, golfers and others who use the boot space frequently. Eliminates key fiddling!
Electric Clock
Modern-as-the-minute design in this reliable facia panel design clock. Easily readable hands on illuminated face.
High Tone Horn
Distinctive tonal effect, blending standard low note with contrasting high note.

Ski Rack
Transportation of ski's, surf rods, boards and other equipmentmade easy ! Roof gutter mounting can be carried out in seconds and bar spacing adjustments are equally easy. High - strength cadmium plated bars.
Tow Bars
Extra strength towbars specifically designed by Ford for Ford vehicles, with choice of full range of heavy duty goosenecks, painted and chromed.

Parcel Shelf Kit
A sturdy and attractive vinyl-finished shelf, providing handy extra storage space under the facia panel.
Vanity Mirrors

Mounts on adjustable hinges behind glovebox door. Also availble: Self-adhering Tissue-&-Mirrror kit that fits on interior sunvisor.
Venetian Shades
The smart way to reduce glare and heat through the rear windows, yet still maintain clear driving vision. Available in black or white and rear side pair for wagon.
Exterior Sunvisors
Cut front sunglare to a minimum. Heavy guage rustproof metal, color-matched to your car or black-vinyl covered. Mesh style, if you prefer.
Rear Dust Deflector
Keeps rear window clear by directing air down towards the rear wagon window. Also gives quiet ventilation with cowel vents open, side windows closed and rear window down about 5 ".

Litter Bin
Neatly designed bin that can save a possible $200 fine ! Sits firmly on transmission hump, in a handy location. Can be positioned in seconds.
Contoured Rubber Floor Mats
Reversible rubber mats in a variety of colours to match floor coverings. Each has a deep ribbing for ensured dirt trapping in Black, Red or Grey. Universal oblong non-slip mats are also available in Black ,Blue ,Red or Green.

Touch Up Kit
Paint and thinner kit,with applicators. Easy to use, saves time and money. All current model colours. Full instuctions provided.
Rear Spring Helper Kit
Heavy loads in the boot, or caravan and trailer towing, are no longer a problem. This kit, which can be quickly fitted , can take a 5cwt. load and improve stability and riding comfort.

---
---
SAFETY
---
Safety Belts & Harnesses
"Totguard" Child Safety Seat - Left
An elevated contoured seat of special shock absorbant plastic with child proof buckles and straps. Seatbelt straps are bolted to vehicle to restrain forward movement. Side movement is countered by swivel action.

Child Safety Harness - Centre Left
Single belt style with sliding harness that allows child to sit, stand or lie. Anchor straps holds seat squab and harness.

Inertia Reel - Centre Right
Complete with black combination seat belt. Gives freedom of movement but locks instantly under sudden braking or impact.

Seat Belt Retractor - Right
Automatic retraction assures convenient positioning of belt at all times.



Rear Vision Mirrors
When towing a caravan or trailer, fit a western type mirror, for that extra safety. Attaches firmly, to contour vibration. Fits and detaches either side in seconds.- Left.
Telescopic Type for either side door , extends 8" to 13" . No drilling required. - Right.
Also available is Prismatic interior mirror with night reflection flick tab for anti-dazzle viewing.
Wide range of other mirrors also available.
Driving/Fog Lamps
Quartz Halogen Long Range Driving Lamps. A boon on country night driving. Automatically dip with normal headlamps. Give outstanding penetration.
Also available Quartz Halogen Fog lamps for deep fog penetration.
Trailer Lighting
Trailer Electrical Installation Kit.
7 - pin kit, ideal for lighting of caravans or trailers. Only complete kit on the market to meet traffic regulations in ALL states. No splicing required. Operates through Falcon lighting and flasher system.

---
---
PROTECTION
---
Locking Petrol Cap
Durable stainless steel press-on locking cap protects against theft and tampering. Locks automatically when pressed on filler neck. Left.

Special gleaming chrome cap non locking. Centre.
Rocker Panel & Wheel Arch Kit
Emphasises the elegant lines of your car, smartens the appearanceand gives added protection against abrasion from flying gravel and stones.
Note - Rocker Panel Moulding Kit is also available seperately.


Wheel Discs & Covers
Add that sporty touch of elegant look to your wheels with high quality discs or covers.
Covers
Fiesta - Right
Mustang - Centre
Deluxe - Left
Luggage Racks
Handsome permanent chrome rack gives that safari appearance to Station Wagon. Extra carrying capacitysolves that luggage problem once and for all.
Also Available
Clamp on roof racks that can be attached or removed in minutes. Will take big loads, held clear of vehicle roof.

Mud Flap Kits
Added protection of paintwork against mud and stones. Easy to fit.
Kick Plates
Protect the lower position of door trims from scuff - marks, mud and shoe polih marks, with these easy to install accessories. Used extensively for taxis.
Front only.

Rear Window Defogger
Two speed fan operation keeps window virtually free of moistire in cold and misty conditions, greatly improves visibility.
Bonnet & Fender Ornaments
Styled for added beauty, these engraved chrome ornaments individualise and add a distinctive line to a car. These anti glare ornaments may be fitted as set of three or purchased seperately.

Rope Rail Kit
Adds to the load carrying capacity and versatility of your utility. When cover is removed high loads can be carried with safety, by securing ropes to rails on each side.
Insect Screen
Fit neatly and quickly to radiator grille and can be easily removed for cleaning.

Bumper Guards
Style - engineered to provide protection in tight parking spots and rush hour traffic. Robustly constructed and equipped with contoured heavy rubber bumpers to absorb shock.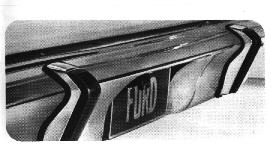 Not Illustrated
Headlight Guards
Protect your headlights against flying stones and gravel. Heavy chrome plated mesh is hinged for easy cleaning of lights.

Battery Cable Booster Kit
An invaluable aid for emergency starts, particularly on vehicles equipped with automatic transmissions. Available in medium or heavy duty.

Foot Tyre Pump
Invaluable when you are caught away from a motorised pump.

Number Plate Frames
Neat dress up enclosure for your licence plate mount.

Lighting Aids
Rear door courtesy light kit.
Glovebox light kit.
Luggage compartment light kit.
---
---
AUTOLITE
---
Always specify Autolite..... thats what your Ford likes
The same group of engineers that designed and built the safety , performance and dependability into your Ford vehicle also designed the Autolite products you see here- plus the large and progressively expanding Autolite range of other units not illustrated. And the car care chemicals bearing the Autolitename have all been laboratory tested and approved.

Autolite - Ford parts and chemicals have been specifically designed for Ford - to keep your vehicle at its livliest top performance, to keep its appearance at the top of the smart line.

when you look into your Ford you see a number of units fitted as original parts - thats how good they are ! The dealer who sold you your Ford maintains stocks of Autolite products ....to keep your Ford showing the way.

Always specify Autolite. Thats what your Ford likes.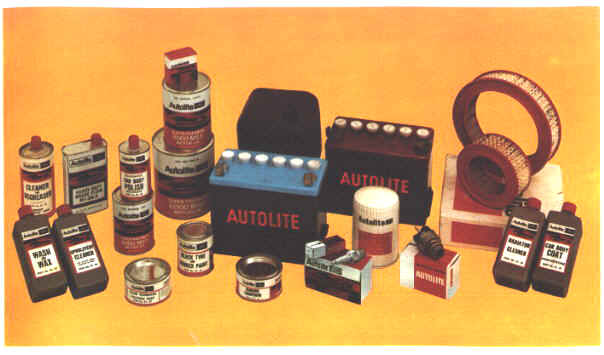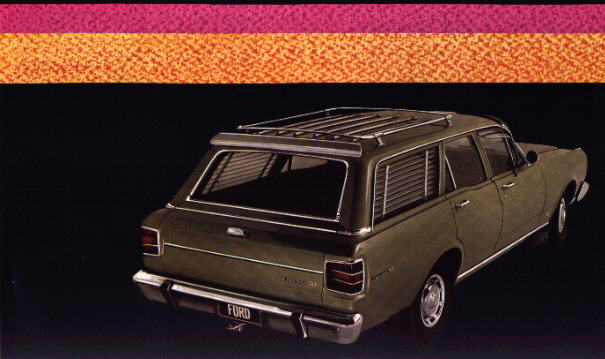 ---
---
---
---